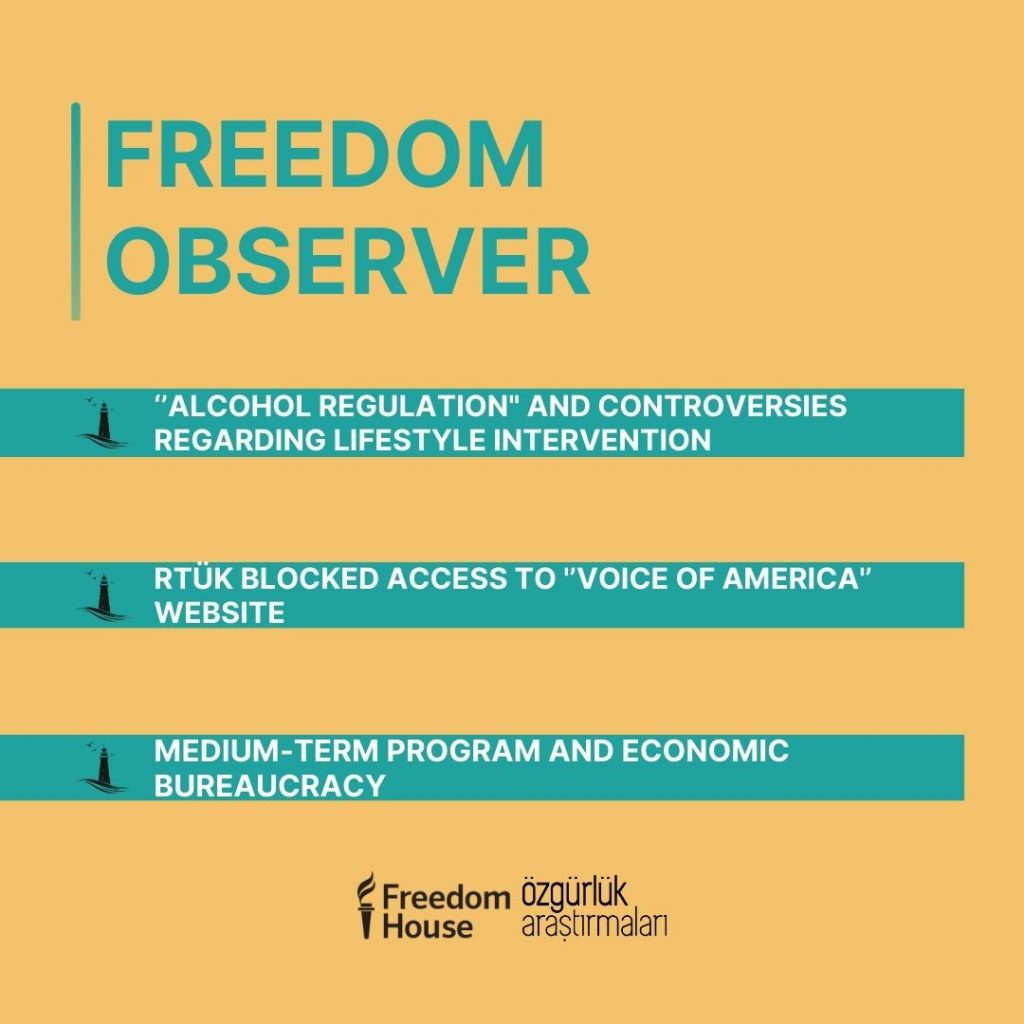 From Editor-in-Chief
The political establishment is maintaining an almost eerie silence, and one key factor contributing to this hush is the concentrated attention and effort of both the government and the opposition on the forthcoming local elections. The primary opposition party, the Republican People's Party (CHP), which is commemorating its centenary, appears to have recuperated from the shock of its defeat in last May's elections, and the related controversies have gradually subsided. Consequently, the party has shifted its focus towards preparations for the congress scheduled for November and the local government elections set for March 31, 2024. It appears that the CHP intends to contest the 2024 local elections with Ekrem İmamoğlu in Istanbul and Mansur Yavaş in Ankara.
On the other hand, the relative silence and inactivity within the ruling party persist. The Erdoğan administration does not appear to display any intention or exert effort to rectify the legal harm inflicted, as highlighted by Mustafa Yeneroğlu of the DEVA Party in his address at the opening of the Judicial Year. Instead, it continues to impose fresh political-legal burdens on society and generate new instances of victimization.
In the meantime, uncertainty continues regarding the potential success of the economic and financial crisis exit program. Although the "Medium Term Program (OVP)" designed for this purpose was recently unveiled by Vice President of the Republic, Ali Babacan, the Chairman of the DEVA Party, whose expertise in this field is credible, expressed less than optimistic views on the OVP. According to Babacan, the program "merely reiterates abstract and general statements about structural measures that have been reiterated before. Confidence and predictability cannot be established with a program that fails to acknowledge past mistakes, lacks internal consistency, and relies on abstract and generalized statements rather than concrete actions. The MTP does not outline specific measures to enhance the independence of the Central Bank and promote transparency. There are no initiatives to tax rental income. Once again, the burden will predominantly fall on individuals with limited and fixed incomes."
Indeed, there is a noticeable absence of any taxation measures. Once again, the weight of these economic changes seems to be shouldered by those with limited and fixed incomes.
From the very beginning, there has been suspicion that President Erdoğan's appointment of Mehmet Şimşek was primarily aimed at offering temporary respite to the country, benefiting his party in the run-up to the local elections, rather than constituting a sincere and substantial shift in economic policy. For the well-being of all citizens, we hope that these doubts and apprehensions prove to be unwarranted.
* Prof. Dr. Mustafa Erdoğan


RTÜK Blocked Access to ''Voice of America'' Website
The Radio and Television Supreme Council (RTÜK) has requested the blocking of access to the Turkish-language website (www.voaturkce.com) of Voice of America (VOA), an international broadcasting organization funded by the United States federal government, citing the lack of a broadcasting license. On August 23, 2023, the Ankara 9th Criminal Judicature of Peace issued a ruling to "block access to the URL address 'voaturkce.com' and remove the content from the air."
The blocking of websites in Turkey has unfortunately become a common occurrence. According to the 2022 EngelliWeb report by the Freedom of Expression Association, the number of blocked websites in Turkey had reached a staggering 712,558 by the end of 2022.(1) Additionally, it's important to note that this number doesn't even account for specific content-level blocking (URL-based).
In the past, prominent platforms like Twitter and YouTube, widely-used resources such as Wikipedia, and various news websites like Sputnik, OdaTV, and Independent Turkish have been subject to blocking. Some of these sites remain inaccessible to this day. The majority of these website restrictions were imposed under Law No. 5651, citing reasons like hosting criminal content, infringing on personal rights, or posing national security threats.
However, the decision to block the Voice of America website appears to be based on a different legal ground, specifically Article 29/A of Law No. 6112, which pertains to broadcasting licenses. This highlights the various legal mechanisms employed to regulate online content and access in Turkey.
In 2018, with the addition of Article 29/A to Law No. 6112 by Law No. 7103, radio and television stations broadcasting solely over the internet and on-demand broadcasting service providers became obligated to obtain a broadcasting license from the Supreme Council. Despite the constitutional concerns surrounding this regulation, it was not annulled by the Constitutional Court.(2) Subsequently, in 2019, regulations detailing the implementation of this provision were issued.(3) Within the scope of these regulations, RTÜK blocked the websites of many internet-based radio and TV stations between 2020 and 2022 for not having obtained a license.(4)
On February 21, 2022, RTÜK (Radio and Television Supreme Council) announced that news websites such as Voice of America, Deutsche Welle (DW), and EuroNews Turkey ("tr.euronews.com") had the option to apply for an on-demand broadcasting service ("INTERNETIBYH") license under Article 10 of the Regulation. Under Article 10 of the Regulation, these news websites, Deutsche Welle (DW) and EuroNews Turkey ("tr.euronews.com"), were informed that they could seek a broadcasting license for on-demand broadcasting services on the internet. It was stated that if these websites did not comply with this call, RTÜK reserved the right to request the removal of content and/or the blocking of access through a criminal court of peace within 72 hours, in accordance with Article 29/A.(5)
While the EuroNews Turkish website complied with RTÜK's demands, Voice of America and DW did not apply for a license on the grounds that their broadcasts were not covered by the law, and access to these websites was blocked by the Ankara 1st Criminal Judge of Peace on 30.06.2022. Subsequently, Voice of America continued its Turkish broadcasts under a new domain name, but as mentioned above, access to this broadcast was also blocked.
Voice of America and DW Turkish primarily focus on written news and do not offer live broadcasts. However, they do archive certain news content in video format. RTÜK asserts that such categorized video news falls under the category of on-demand broadcasting. Nevertheless, when we typically think of on-demand broadcasting services, platforms like Netflix, Amazon, BluTv, Disney+, Mubi, and Spotify come to mind. These platforms provide catalogs of content that users can watch at their convenience, based on their preferences.
The Turkish editions of Voice of America and DW do not differ significantly from other online news websites. Internet news websites were brought under the purview of the Press Law through amendments introduced by Law No. 7148 in 2022. Consequently, it is now possible to regulate internet news websites under both Law No. 5651 and the Press Law.
The Constitution explicitly safeguards freedom of the press, as outlined in Article 28, which stipulates that establishing a printing house cannot be made conditional upon obtaining a license or depositing a financial guarantee. It is evident that requiring a license to establish an internet news website contradicts this constitutional provision. Such a licensing requirement for news websites could undermine an independent press. However, the decision to block access to the Voice of America website does not appear to address this constitutional concern.
Furthermore, in the most recent decision, the judge not only ordered access to be blocked but also directed the removal of the publications from the website's content. This action has resulted in the complete destruction of thousands of news items with archival value.
* Ali Rıza Çoban – Constitutional Lawyer
Medium-Term Program and Economic Bureaucracy
On September 6, 2023, Vice President Cevdet Yılmaz unveiled the medium-term program, a three-year economic plan spanning from 2024 to 2026.(6) This program encompasses projections for both the Turkish and global economies, along with macroeconomic objectives. Regrettably, the program document itself is available only in Turkish and can be accessed in the provided footnote file for more details.
There are two notable points worth emphasizing regarding the influence of democratic institutions on the economy. Firstly, it's worth noting that this program was not officially announced by the Ministry of Treasury and Finance, even though it was stated to have been prepared by the ministry. Instead, it is exclusively accessible on the website of the Strategy and Budget Directorate of the Republic of Turkey. Furthermore, it is Vice President Cevdet Yılmaz, not the Minister of Treasury and Finance Mehmet Şimşek, who presented the program. This situation underscores the role of the Presidency of Strategy and Budget as a coordinating body and highlights that ministries have taken a backseat compared to the presidencies and boards under the Presidency.
This further reinforces the notion that ministries, while remaining important entities, have less influence when it comes to setting the strategic direction within the government and primarily operate in an executive capacity. Unfortunately, this may diminish the perceived institutional power of the Ministry, which may not accurately reflect its actual authority and capabilities.
Secondly, it's crucial to reflect on a significant issue that Turkey has experienced previously, shedding light on how institutional capacities and foresight may be diminishing. Turkey had announced three-year economic programs for the years 2022-2024(7) on September 5, 2021, and for 2023-2025(8) on September 4, 2022. In other words, new three-year programs were consecutively introduced in 2021, 2022, and 2023. This means that under the leadership of President Recep Tayyip Erdoğan, there are now three different economic programs for 2024, all of which are in contradiction with each other.
This situation raises concerns about the consistency and coherence of economic planning, as well as the ability of institutions to provide reliable and sustainable economic strategies.
Indeed, economic predictability plays a paramount role in Turkey's development. The country faces challenges related to a scarcity of domestic capital, given its savings deficit. Consequently, foreign funding becomes crucial for Turkey's economic growth and stability. Attracting foreign resources and investments hinges upon the establishment of a predictable economic and legal framework.
However, the current situation seems to increase the risk for foreign investors who want to make long-term investments in Turkey. We hope that from now on Turkey will have an economic bureaucracy that does not have to announce three-year economic programs every year. This will also save Turkey from the high interest rates and political concessions it pays to obtain foreign funding. Such a major institutional transformation seems quite difficult in a short time. But in this system of governance, where common sense does not work, there is no other option but to hope.
* Enes Özkan – Economist, Istanbul University


''Alcohol Regulation" and Controversies Regarding Lifestyle Intervention
The Istanbul Governorate's circular, which prohibits drinking on public beaches, parks, picnic areas, and promenades, has ignited a significant debate within the city. In opposition to the circular, the Istanbul Bar Association has initiated legal proceedings to temporarily halt its enforcement and ultimately have it revoked. (9) Their argument is based on the assertion that the circular infringes upon personal freedoms, particularly the right to "privacy," as guaranteed by the Constitution and the European Convention on Human Rights.
In a subsequent statement, the Istanbul Governorate contended that the objective of the circular was to safeguard security and maintain public order.(10)
The circular cites the primary reason for its issuance as follows: "Most individuals involved in the incidents were found to be under the influence of alcohol." It further asserts that individuals consuming alcohol have been responsible for disruptions to the environment, as well as instilling fear and panic among the public.(11)
According to the circular, those who do not adhere to the prohibition will be subject to a fine of 617 TL and will be held under supervision until the effects of intoxication have dissipated.
The initial statement was widely interpreted by the public as a ban on drinking in public places. In response to this interpretation, the Istanbul Governor's Office issued a clarification, asserting that individuals who consume alcohol on their own would not face penalties, and that the focus was solely on those who disturb the public environment.
According to some news reports, despite the existing legislation in Turkey that prohibits the retail sale of alcohol between 22:00 and 06:00, this circular was distributed to relevant departments due to a recent increase in complaints regarding non-compliance with the ban. Nevertheless, even though the issue may have faded from the public agenda, it is apparent that this regulation continues to create confusion. The Istanbul Governor's Office has indicated that the circular exclusively targets individuals who disrupt public order but has not provided explicit guidance on its implementation.
The recent restrictions on alcohol consumption in Turkey constitute a significant violation on personal rights and freedoms. Regardless of the motivations behind these restrictions, such interventions into individuals' lifestyles are not consistent with the principles of a democratic society. In a democracy, individuals should have the freedom to make choices and lead their lives according to their own preferences.
It's important to recognize that every individual has a unique lifestyle shaped by their personal preferences and values. For some people, alcohol consumption is a part of their social interactions, and it is imperative in a democratic society not to impose restrictions on these preferences and values but rather to safeguard them.
* Ömer Faruk Şen – Ph.D. – Missouri University
---
1 https://ifade.org.tr/reports/EngelliWeb_2022.pdf
2 AYM, E.2018/99, K.2021/14, 03/03/2021, §§ 62-99
3 Radyo, Televizyon ve İsteğe Bağlı Yayınların İnternet Ortamından Sunumu Hakkında Yönetmelik, 01.08.2019 tarihli ve 30849 sayılı Resmî Gazetede yayımlanarak yürürlüğe girmiştir.
4 İfade Özgürlüğü Derneği, EngelliWeb 2022: Sulh Ceza Hakimliklerinin Gölgesinde Anayasa Mahkemesi, s. 131-134, https://ifade.org.tr/reports/EngelliWeb_2022.pdf
5 İbid.
6 https://www.sbb.gov.tr/wp-content/uploads/2023/09/Orta-Vadeli-Program_2024-2026.pdf
7 https://www.resmigazete.gov.tr/eskiler/2021/09/20210905M1-1.pdf
8 https://www.resmigazete.gov.tr/eskiler/2022/09/20220904M1-1.pdf
9 https://www.bbc.com/turkce/articles/cx8g3ve81vpo
10 https://www.cumhuriyet.com.tr/siyaset/istanbul-valiliginden-yeni-alkol-yasagi-aciklamasi-2114273
11 https://www.cumhuriyet.com.tr/siyaset/cumhuriyet-alkol-yasaginin-ayrintilarina-ulasti-olay-cikartanlar-ekseriyetle-alkollu-2114147